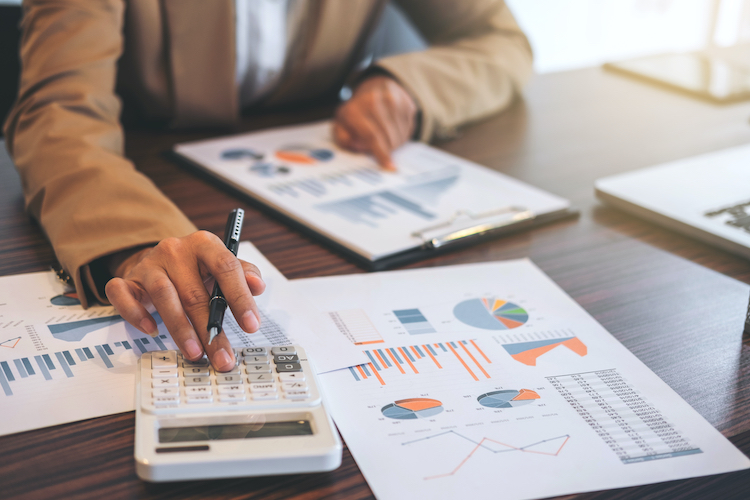 How Much Should You Budget on Marketing For Your Business?
Whether you're closing your business fiscal year or planning for the future, creating a marketing budget can be complex, but it doesn't have to break the bank. When considering how much your business should budget for marketing, the answer is, it depends.
There's no hard rule to establishing marketing costs, but on average, most companies spend roughly 7 to 8% of their revenue on promoting services and products. Where you spend that money, however, is likely the more important question. While every business will establish a custom marketing budget for their team, some principles apply across the board.
Why Do I Need A Marketing Budget?
A marketing budget doesn't just represent numbers on a spreadsheet. Creating a customized budget allows you to meet your yearly growth goals. Read on to learn about the top eight reasons for putting thought into your marketing budget.
1. Stay on track financially.
Keep track of how much you spend on each marketing method when you create a budget. If you begin overspending in a particular month, you can reduce your projected spending for future weeks to stay on track with your overall budget.
2. Keep cash in the right places.
A budget can help you manage your cash allocation to different marketing methods. You can track those methods to determine your return on investment and shift the funds to a more effective method if needed.
3. Set a marketing goal.
Establishing a budget will illustrate the results you can expect when you spend certain amounts of cash. Once you have realistic expectations of the results, you can determine whether you want to spend more or less of your revenue on marketing.
4. Establish a sales cycle.
When your customers are exploring your brand, they typically go through four stages:
Awareness: Customer acknowledges the need for a solution and starts looking for a product or service.
Consideration: Customer begins exploring different brands with the product they need.
Decision: Customer begins to narrow the list of brands from which to make a purchase.
Action: Customer chooses the best brand to meet their needs.
By identifying your sales cycle, you can see where you need to spend the most money to turn more prospective consumers into loyal customers.
5. Review your business costs.
How much do you spend on employee salaries or paying a freelancer? What does it cost to manufacturer your product or pay for your business systems? Understand how much money you're spending to operate your business to confidently determine an amount for your marketing budget.
6. Determine your business goals.
What is it you want to achieve with your marketing efforts? For startups, perhaps the goal is simply to get in front of people and start generating revenue. Established small businesses may want to maintain their current loyal customer base and launch a referral program. Flourishing businesses may seek to lure in new customers or expand their business.
Make your goals specific and measurable. When you identify exactly where you want to be in 3, 6, or 12 months, you can appropriately determine how much money should be allocated to your marketing budget.
7. Consider your marketing options.
Create a list of the marketing tools that your business may use. Some of the most popular methods include:
Pay per click advertising: PPC ads are the paid positions at the beginning and end of search engine results and on other web pages. These ads are a good choice because they appear to a warm audience that's currently seeking products or services like those you offer.
Social media ads: A great benefit to social media ads is you can tailor the audience by hobbies, zip codes, or other particulars. The ads appear to be native content as the user scrolls their feed.
Email marketing: The ROI on email marketing is high – nearly $44 to every $1 spent. Email marketing platforms allow you to customize your message, send to relevant recipients, and track the analytics.
Vanity phone number: Choose a vanity phone number or 800 number for customers to reach your business. By using an easy-to-remember custom phone number, you can make reaching your business easy.
Text marketing: Reach your customers in the most direct and personalized way with text marketing. You control the message and get nearly immediate results.
8. Don't forget free marketing tools.
Creating a marketing budget doesn't mean you can't utilize free tools that connect you directly with your customers. Try these free methods of reaching your target audience:
Social media: Create useful content that connects your brand with customers. Images, videos, and gifs are engaging ways to grab an audience.
Search engine optimization (SEO): Boost your website's search result rankings by using keywords and phrases that identify your content and drive relevant traffic to your site.
Facebook groups: Facebook groups are virtual communities that offer access to exclusive content. You connect like-minded people and your brand, driving the conversation and building your authority in the market.
Whether your marketing budget is at a minimal amount or you're adding a comma to the figure this year, creating a solid plan will help you get the most out of each dollar. Connect with 800.com to explore vanity phone numbers and text marketing for your brand.