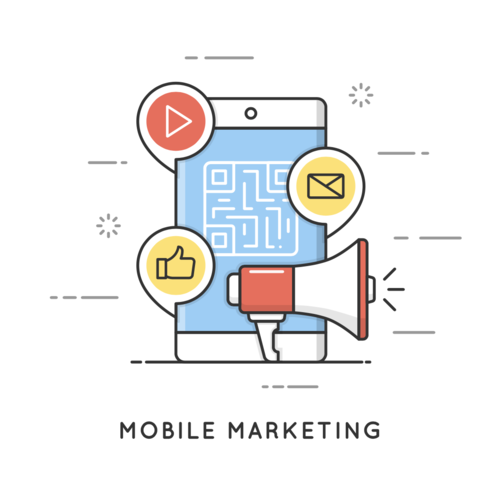 5 Mobile Marketing Strategies You Probably Haven't Thought Of
According to Statista, the number of smartphone users is expected to double from 2016 to 2026. As of 2021, there are approximately 6.4 billion smartphone users worldwide.
What does this mean for marketers? Adopting a "mobile-first" strategy.
Mobile marketing isn't a new fad or trendy tactic. It's been around since the iPhone debuted. The difference is that mobile marketing is now a necessity. From local SEO to social media marketing, all strategies must begin and end with a "mobile-first" focus.
Fortunately, businesses can use several mobile marketing strategies to increase their reach, generate sales, and retain loyal customers. Let's take a look at five of the top mobile marketing strategies you might not have thought to try.
1. SMS Messaging Campaigns
SMS marketing, also known as text marketing, is a strategy centered around sending mass or personalized text message alerts to customers and subscribers who have opted-in to receive text messages from your company.
Text marketing is used by a wide variety of industries, from restaurants to healthcare, to accomplish objectives such as:
Sending customer alerts. Notify a party that their table is ready. Remind a patient about their upcoming appointment. Alert a customer about an overdue bill.
Online ordering. Connect your text marketing platform to your online shop or POS system and allow customers to order and ship your products right from their phones.
Customer service. Streamline customer support operations by offering a text message service. Rather than sitting on hold for the next available representative, your customers can solve their problems via text.
Subscriber-only promotions. Reward your most loyal customers with subscriber-only discounts, promotions, and sales. The only way to access these exclusive offers is by signing up for your text marketing program!
Ready to try out an SMS marketing strategy? Give these 28 text templates a try!
2. QR Codes
While QR codes have been around for years, recent global crises have solidified their place in our society. These easy-to-use images work to bring meaningful content and interactive experiences to customers without the need for human contact or additional technology.
By scanning a QR code, customers are taken to a dedicated URL for more information. This has proved beneficial for use cases such as:
Managing restaurant menus and online ordering
Digital event experiences and marketing
Directing users to download an app
Sending customers to a review page
Just like SMS marketing, there's no limit for what you can use a QR code on. Whether you use it to streamline the hotel check-in process or direct clients to an appointment scheduling page, QR codes are a convenient mobile marketing strategy for all businesses.
3. Voice Search
With the rise of in-home and smartphone voice assistants such as Apple's Siri and Amazon's Alexa, businesses must now also optimize their online content for voice search.
To accomplish this, make sure your content is always written in a manner that speaks to humans (not search engine bots) and answers relevant questions.
Additionally, ensure your content and website information are always up to date. If a customer asks Google or Siri what your hours of operation are, the device will pull that information directly from your website and/or Google Maps listing.
Voice search is an often-overlooked mobile marketing strategy, so be sure to hone in on this opportunity in your market and the local area.
4. Responsive Website Content
Smartphones come in all shapes and sizes. Does your website?
One of the most obvious mobile marketing strategies is utilizing a responsive website design. Yet, many businesses still fail to ensure their website content appears and functions properly across devices.
A responsive website design adjusts the content size, features, and layout to accommodate a specific screen size. The screen size of an iPhone 7 is far smaller than the iPhone 12. Your website content must function and display accurately on both.
Work with a trusted website designer and developer to create a responsive website design that is true to your brand and displays your content properly, no matter the screen size or device.
5. Loyalty Programs
After you've used a mobile marketing tactic or two to drive customers to your retail or online shop and make a purchase, you need to retain them as repeat customers. One way to accomplish this is with a mobile-first loyalty program.
Through text message marketing or a specific app downloaded via a QR code, businesses can implement loyalty programs that reward customers for continued purchases or actions such as:
Referring a friend
Following the brand on social media
Sharing company content
Taking advantage of a specific promotion
Best of all, the loyalty program lives entirely on the customer's smartphone for a truly mobile experience.
Which mobile marketing strategy will you decide to implement this year?