How to Create a Sales Funnel That Maximizes Conversions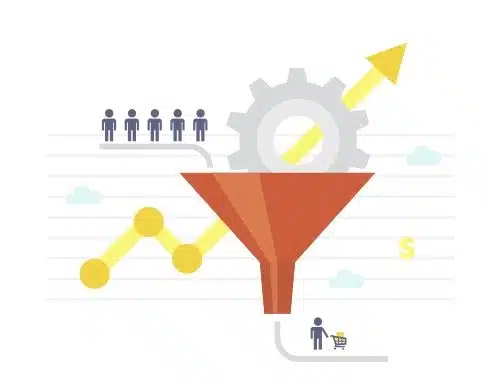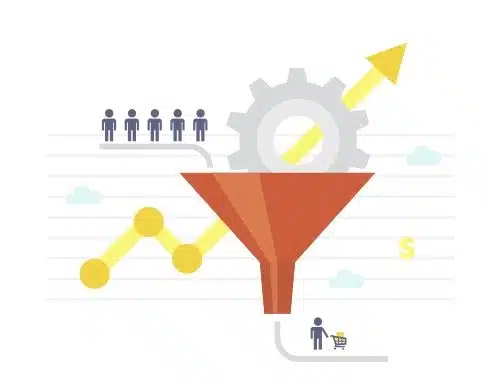 Have you ever been confused about why people are visiting your website but not buying or reaching out to your company? For example, you check your Google Analytics every month and see either steady or increasing traffic on a consistent basis, but it doesn't seem to be improving your bottom line. If so, you're not alone.
On average, people spend around 54 seconds on a web page. That's not a lot of time, particularly when considering how long it usually takes to make a purchasing decision. But, in a way, the 54 seconds metric is good news. During that first minute, your objective is not necessarily to convince a customer to reach into their wallet and make a purchase. With an effective sales funnel approach, all you aim to do is get them to the next step.
Read on for more details about what a sales funnel is, how it works, and the different phases they guide prospects through as they progress to becoming paying customers.
What Is a Sales Funnel?
A sales funnel is a systematic approach designed to meet people where they are and encourage them to become paying customers. Even though a motivated buyer may decide to sign on the dotted line, enter their credit card info, or type in their PayPal address within a few moments, most people take longer to commit.
The sales funnel approach respects this concept. It also presumes that people are more comfortable committing to someone they already know, at least somewhat. Therefore, the components that form a sales funnel are often designed to make the potential customer more familiar with your business, its team members, or your brand.
A Sales Funnel Is Not About Making Quick Sales
Although the ultimate objective is to get someone to pay money for your product or services, a sales funnel is about far more than that. Some primary goals include:
Enabling transparent, open communication
Building trust
Nurturing leads until they're ready to commit to making a purchase
Get leads more familiar with your brand, offering, and personality
When you ignore the sales funnel approach and choose to hone in on simply getting a sale, you miss out on some key opportunities. For example, have you ever recommended a product or company that you haven't purchased or done business with personally? It happens all the time. As a business, you may not get the person in your sales funnel to commit to a purchase, but because they learned valuable information about your company, they may feel comfortable recommending you or your offering to someone else.
Similarly, a sales funnel is a good tool for keeping you top of mind. This can often pay bigger dividends than a quick, one-time sale. For instance, someone in your sales funnel may seem disinterested, even after a significant amount of time has gone by. But down the road, their needs or situation changes. Because they've engaged with your marketing collateral, product demos, or sales reps while in your sales funnel, you've built a relationship. Now they're ready to make a purchase even though it may be several years later.
Why Is It Called a Funnel?
The metaphor of a funnel is appropriate because as you create your system, you begin by trying to attract a large group of leads, and then, as prospects progress through different phases, their number invariably shrinks.
While the ratios will differ from one company to another, generally speaking, the more people that enter your funnel, the more you'll see on the other end as they make purchases.
How to Design Your Sales Funnel Using the 3 Stages
As you build your sales funnel, you will want to take into consideration the three stages someone goes through as they decide to make a purchase:
Awareness and attraction
Interest and desire
Action
Here's how to construct a sales funnel that leverages these phases.
Generating Awareness and Attraction
To generate attraction and awareness, you will want to focus on the following objectives:
Get your offering in front of people
Differentiate your product from that of your competition
Put elements of your brand identity front and center
These steps attract leads and make them aware of your product because they highlight the bare essential elements that can draw them in.
To illustrate, suppose you're in charge of marketing for an investment management corporation called GreyStone. GreyStone has great traction with individual, retail investors and has been growing as a result. However, the potential exists to pull in more institutional and corporate investments.
The product development team has designed some funds that may pique the interest of corporations and other organizations, and you're charged with marketing these products. To generate awareness and attraction, you may consider:
Placing ads in print, social, and internet media
Reaching out to decision-makers directly through LinkedIn
Attending conferences and presenting your offering either during a panel discussion or via a rented booth
Landing interviews on radio stations and podcasts that discuss financial products
Purchasing an email list of corporations that may be interested in the funds GreyStone is offering
You may notice that at this phase, there may be little-to-no personal interaction with clients. Your objective is just to create awareness and attract them to your product. Once they have eyes on your offering, it's time to foster the next phase: interest and desire.
Creating Interest and Desire
As you cultivate customers — or meet those who are already drawn to your product — in the interest and desire phase, your objective is to underscore the unique value-add of what you're selling. In most cases, you've already established some of the basic attributes that set you apart from the competition during the awareness and attraction phase. Now it's time to drive home why your product solves a critical problem they have.
For instance, if you have a car rental company that caters to airport travelers, you may create marketing collateral that emphasizes unique elements of your solution that address key pain points business travelers often face. You may not focus on the quality of your vehicles as much as you would emphasize:
Concierge services that deliver the vehicle to the airport at just the right time.
The option of picking the renter up when they're ready to leave — as long as they're within a certain radius — and dropping them off at the airport
Discounts provided for repeat customers, which are offered through business accounts
In this way, you're driving home the value of your services, not because they're inexpensive, but because they solve several potential problems your target clientele may have experienced in the past.
When Do You Talk About Price?
For many products and services, the price is already presented up-front. If that's the case, your goal is to justify the price by generating sufficient interest and desire. However, it's often better to discuss price after you've established desire and interest.
This is because, ideally, you want the only "obstacle" to be the price when the customer gets to the next phase. Remember that of all the attributes of your offering, your price may be the most flexible. What you offer, as well as its various details, are usually set in stone. By creating a desire for your offering before discussing price, you establish the value of things that can't be changed, leaving the last consideration, price, an adjustable variable.
For example, suppose someone was interested in the car rental business described above. They're interacted with you over email, watched a few videos, and they've downloaded your brochure. At this point, you've established both an interest and a desire for your service. When it comes to price, you have a few different options:
Give them the same figure you'd give any customer while further underscoring the value of your product.
Offer them a business account where they pay the regular price upfront but less for future services.
Offer a business account that allows them to prepay for a certain amount of services upfront, similar to a retainer agreement.
In this way, you can "adjust" the price, preventing it from being a sticking point that could stop them from going to the next phase: action.
Stimulating Action With Your Sales Funnel
The steps you take during the action phase of the sales funnel will vary depending on the nature of your business, but this is where you want to establish a sense of commitment to your product and company.
As mentioned above, your goal isn't just a quick sale; you want to solidify your relationship, encouraging them to continue to do business with you in the future as well.
Therefore, during the action phase, you should:
Make all transactions as convenient and quick for the customer as possible.
Invite feedback so you can use their experience to improve their next interaction with you or what you offer.
Be flexible — to a reasonable degree — with payment options, perhaps allowing more time than usual or custom-designing payment plans to suit any budgetary constraints.
Explain how you're going to support the product or services going forward.
Underscore any warranties or guarantees they can take advantage of.
If you have a loyalty reward program in place, clearly describe it to your customer to encourage them to do business with you again and again.
These steps are crucial in the sales funnel process because the action phase is not necessarily only about "closing the deal." It's about setting up the next deal down the road.
Improve Your Sales Funnel with 800.com
By incorporating a toll-free number in your sales funnel's structure, you support all phases of the customer's process. A branded 800 number generates awareness, encourages interest, and can be used to answer any questions as the customer prepares to take action. Learn more about how 800.com can support your marketing by reaching out today.