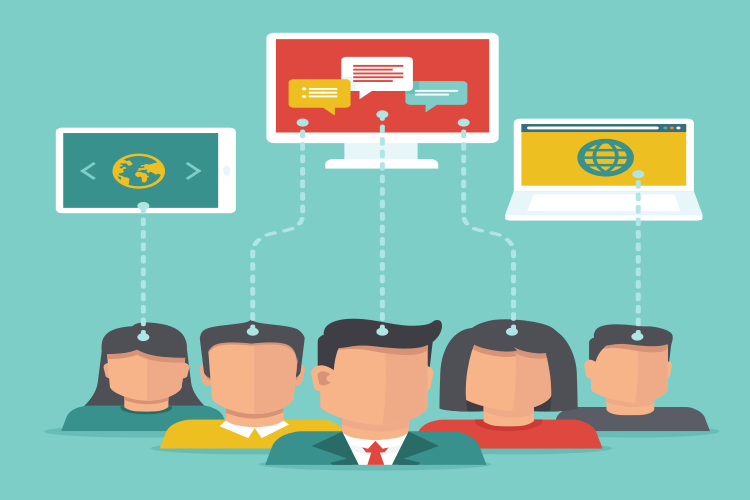 User-Generated Content: Why It's One Of The Biggest Trends Of 2021
According to a study by HubSpot, 70% of marketers in 2020 were actively investing in their content marketing strategy. For many businesses, this investment isn't 100% monetary — it's an investment of time, energy, and company resources.
Yet, time isn't an infinite resource that all businesses have access to. Many businesses are strapped for time, with numerous projects already on their plate.
When organizing and executing a content marketing strategy, much of the process is dedicated to brainstorming and creating relevant content that resonates with your audience and serves a specific purpose. If your team is unable to devote a significant amount of time to the content creation process, you need to find other solutions. After all, eMarketer found that 60% of marketers create at least one piece of content per day!
If your brand doesn't have access to the necessary content creation resources or is short on time, user-generated content is the solution.
In 2021, user-generated content (UGC) will become the new "go-to" content for brands across all industries. In our guide to UGC, we'll show you:
What user-generated content is and why it matters for marketers.
The many benefits of leveraging user-generated content in a marketing strategy.
How to properly identify and use the best customer-created content.
Let's get started.
User-Generated Content: What Is It & Why Should I Care?
User-generated content is defined by HootSuite as any form of content created by people, rather than brands. This content can be in any medium, including:
Social media posts
Review content
Imagery
More often than not, this content is tied to the brand in some fashion — whether through product placement, recommendations, or simply aligning with brand values.
For example, a social media user can take and post a picture of a latte from their local coffee shop. No matter how the brand is involved — via username tags, location tags, the coffee shop's logo on the cup — this post is considered a type of user-generated content.
One of the most famous examples of user-generated content is any picture taken at an attraction such as Walt Disney World. Fans from all over the world travel to the theme parks, take pictures in front of the iconic landmarks and share them on social media. As a result, Walt Disney World has a wealth of customer-created content to utilize, if they so choose.
What's the Point of User-Generated Content?
User-generated content provides brands with exponential advantages, such as:
Time & Resource Savings: When you can't dedicate time to content creation but still have goals to reach, user-generated content can do the trick!
Reach Wider Audiences: When customers share content related to your brand, you're effectively reaching new audiences who might not have known about your brand otherwise.
Actively Building a Content Library: All marketers know the pain of not having enough content to work with. From blog posts to video content, collecting user-generated content helps brands build a full library of content to use within their strategies — with customer permission, of course!
Builds a Community of Fans: As your brand embraces user-generated content created by your fans, you'll begin to build a loyal following and community. As a result, fans will continue creating more content for your brand out of their appreciation or the chance to be recognized for their efforts. This community will help propel your brand forward!
Improves Brand Authenticity and Reputation: A Stackla survey found that customers are 2.4 times more likely to consider user-generated content authentic in comparison to content created by brands. To build a lasting relationship with your audience, focus on collecting and sharing UGC along with your branded content.
And, these reasons only scratch the surface of the never-ending benefits associated with leveraging user-generated content.
4 Reasons Why UGC is the Biggest Marketing Tool of 2021
The adoption of user-generated content has been quite the marketing trend leading up to 2021. But now this type of content isn't a trend, it's a valuable tool.
Here's why:
1. Limited Budgets are Reducing Branded Content Creation Efforts
The global pandemic of 2020 decimated the marketing budgets of brands everywhere. As a result, marketers do not have as many resources or the budget to create as much content as they would like.
By embracing user-generated content, marketers can still publish the same amount of content and continue striving for their content marketing goals without straining their team or budget.
In their 2021 digital trends report, eMarketer noted, "Why would brands spend more time and money on large-scale productions when this option [user-generated content] exists, particularly in a world where content must be created and shifted quickly?"
2. User-Generated Content Creates Trust. Trust Leads to Purchases.
It's no secret that customers trust content, reviews, and recommendations from influencers, friends, and family over brands. By only sharing branded content, companies fail to build a trusting relationship with their audience.
In 2021, user-generated content will prove to potential customers that they can trust your brand because others already did!
Ultimately, trust leads to purchases. We won't buy from a brand we don't trust!
By building trust through sharing and celebrating user-generated content, you're actively working to increase sales for your company, too!
3. User-Generated Content Provides Social Proof to Potential Leads
To build trust with potential customers, you must provide proof that others trust your business. This concept is called social proof.
SproutSocial defines social proof as the psychological concept that customers will follow the actions of the majority. This theory states that we believe if so many people are exhibiting a certain behavior or in this case, trusting a certain brand, it must be the socially acceptable thing to do.
The concept of social proof is constantly used throughout a digital marketing and content marketing strategy. From reviews and testimonials to the number of social media followers you have, there are ample ways to showcase social proof in your content.
User-generated content is the perfect example of displaying social proof to fans. This content visibly proves to audiences that your brand can be trusted as the user went out of their way to post about or review your brand.
4. Customer-Created Content Drives Human Connection
Again, thanks to the global pandemic in 2020, we're all starving for human connection. Since we cannot meet with customers around the world in-person, user-generated content fills the void.
By collecting and sharing content created by your fans, it creates a pseudo-human connection throughout your online community. Human connection coupled with trust and social proof is a winning formula for a successful content strategy.
How to Find, Capture, & Leverage User-Generated Content
You can't snap your fingers and have a full library of UGC on your laptop. Instead, you must work to properly find, capture, and use this content.
The Two Main Ways to Find UGC: Search & Branded Curation
Arguably the hardest part of user-generated content is finding it. While most customers are apt to tag brands or use a branded hashtag, others will only mention the brand or use a more subtle geo-tag.
With this in mind, brands have two main ways of identifying potential sources of user-generated content:
Search Tools
Social media tools such as HootSuite and SproutSocial offer "social listening" tools. Using these tools, brands can enter specific keywords, phrases, brand mentions, and hashtags and generate a feed of social media posts that include these terms and/or tags.
This approach enables brands to reach out to fans and create meaningful conversations about the content.
Branded Curation
When fans are quiet about your brand online, you can also create a content curation campaign. These campaigns encourage fans to create and share content using a hashtag or contest platform in exchange for a prize or special recognition.
Always Ask Permission & Include Customer Credit
Never, ever share customer-created content without their expressed permission! Not only is this a common courtesy, but it also protects your company from any potential legal issues such as copyright infringement.
When publishing user-generated content on your social media channels, website, or email newsletter, always include the proper credit. Your brand should be celebrating and uplifting the creator of this content, not stifling them and stealing their work. Always providing credit to the creators also ensures that your brand steers clear of any legal troubles online, too!
The Best Marketing Channels for User-Generated Content
Guess what? User-generated content works on every marketing channel.
From internal communications to your online advertising campaigns, there are endless ways to leverage user-generated content. Here are a few of our favorite places to get you started:
Social Media: This channel's a no-brainer. When a fan tags you in a post that you deem appropriate and relevant for your main feed or opportunities such as Instagram stories, share it! Social media channels are an excellent place to showcase your fan content and engage with your community.
Company Website: Your company website is your main online real estate — be sure to include user-generated content here too. This type of user-generated content can include short reviews, video testimonials, and even a feed of images from fans. There's no limit on how you can celebrate your community on your brand website.
Email Newsletters: Since email marketing is an ROI gold mine, you should use user-generated content here too. Best of all, you can leverage all types of UGC in an email, too, from written testimonials to imagery!
You're not limited to only these three channels. Here are some quick ideas on how to leverage UGC elsewhere:
Include customer reviews on your next print flyer.
Film video testimonials for an internal training video.
Quote a customer in your upcoming press release.
Use customer testimonials in your paid advertising efforts.
Don't Wait Until 2022 to Take Advantage of User-Generated Content
Chances are, your customers are already creating valuable content about your brand. Use it to your advantage!
Before you start publishing all sorts of user-generated content to your channels, remember to:
Have a UGC strategy in place
Obtain permission to use the content
Include creator credit
Now, start using user-generated content before 2021 is over!