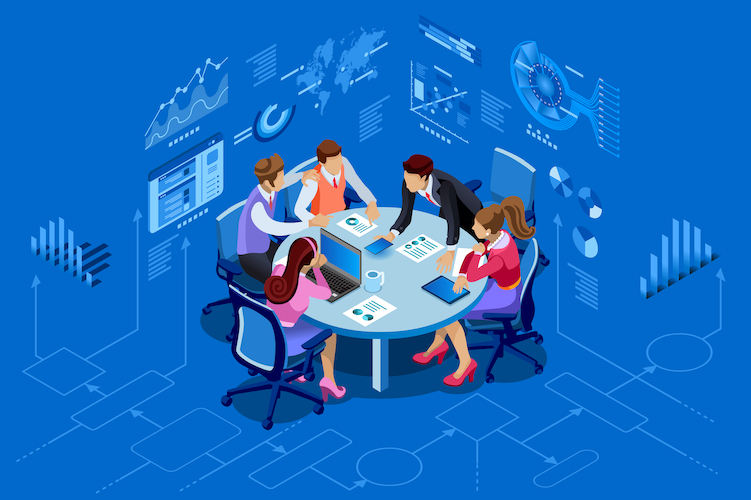 14 Alternatives to Grasshopper for Your Business Phone System
Small businesses, remote teams, and service providers rely on incoming leads. If customers call and can't reach you, they may dial someone else. Voice-over-internet-protocol (VoIP) phone systems like Grasshopper provide a low-cost solution. Small businesses gain the advanced phone functionality of a larger enterprise.
For an affordable monthly fee, businesses can add the professional touches of an integrated phone system. Grasshopper alternatives provide toll-free phone numbers, call forwarding, call recording, and voicemail transcripts.
To be a viable Grasshopper alternative, a competitor's phone system must make it easier for small-business users by offering dependable and accessible services. Here are 14 great alternatives to Grasshopper.

800.com is an excellent Grasshopper alternative. The starter plan is full of features but costs less than Grasshopper. With 800.com, you can port your existing toll-free phone number, get a new 800 number, or use a local number on your account.
Each plan includes call recording, business SMS, analytics, voicemail transcription, call screening, simultaneous or sequential call forwarding, and more.
800.com plans include call routing to over 60 international destinations at no additional charge.
Monthly Plans Start: $23.00
Pros: Starter plan includes a toll-free phone number and 1000 minutes per month.
Cons: The upgrade to unlimited minutes is $10 more expensive than Grasshopper's Standard plan.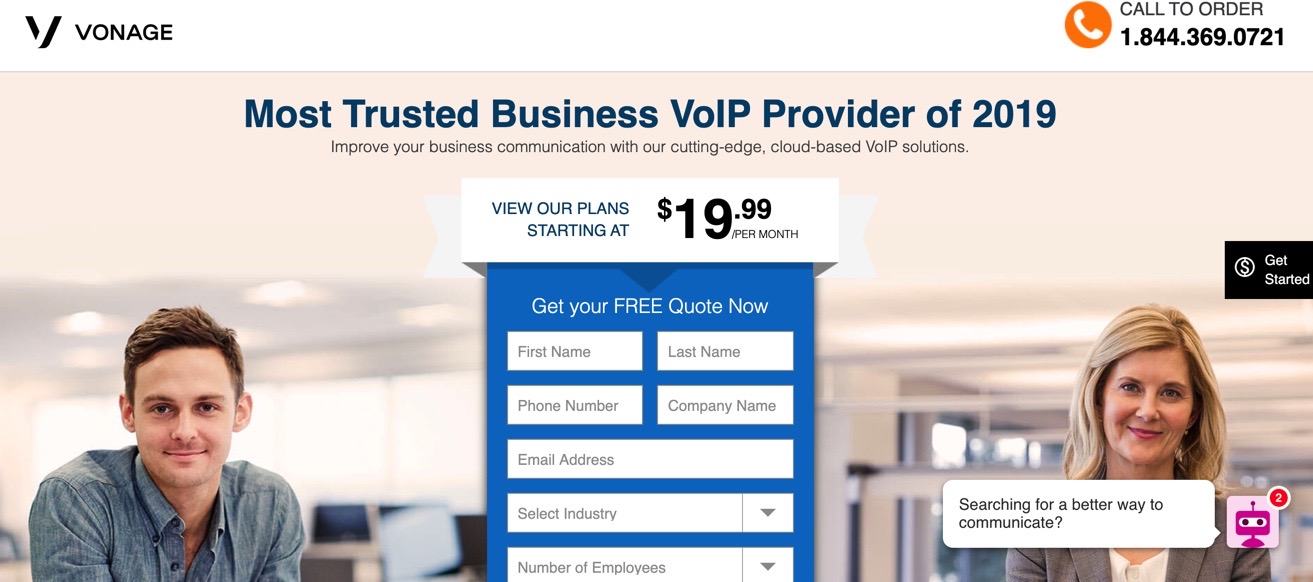 Founded in 2001, Vonage is one of the original companies in the VoIP industry. Like RingCentral, its services suit medium- to enterprise-level businesses. Advanced plans integrate with video conferencing, team messaging, and other workflow enhancements.
A toll-free phone number is not included with the Basic Vonage plan, but you can add it on. Vonage is an option for a business with large collaborative teams or remote teams. The system is designed to integrate communications and collaboration.
On the most basic plan, users can access their business phone lines through their mobile phones and desktop app. Upgraded Vonage plans include a landline-style phone that connects through the company's internet provider.
Monthly Plans Start: $19.99
Pros: Quick access to chat support. Low-priced starter plan.
Cons: Starter plan includes fewer features than Grasshopper or 800.com.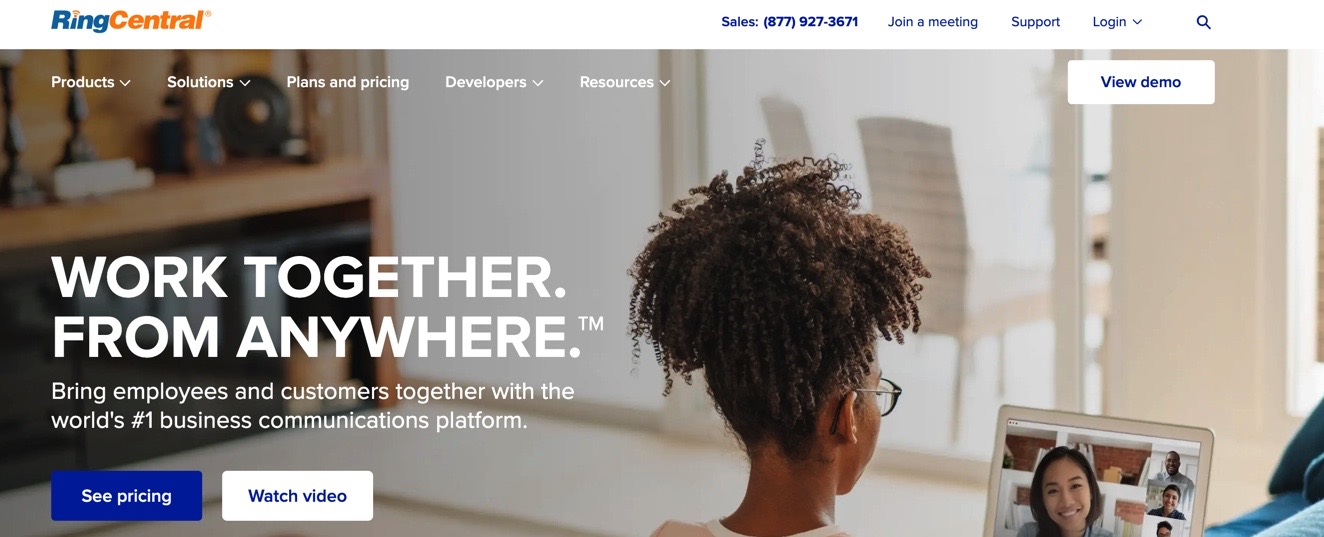 Founded in 1999, RingCentral is a well-known name among VoIP services for small businesses. Like other Grasshopper alternatives, RingCentral provides features, such as unlimited calling, unlimited business SMS, and an automated attendant.
Upgraded plans allow integration with Office 365, G Suite, Slack, and other workflow-enhancing features like video meetings. RingCentral is a fit for growing teams that want a business phone system that integrates with their overall communications workflow.
For international companies, RingCentral offers customized enterprise-level solutions.
Monthly Plans Start: $39.99
Pros: Responsive and helpful customer service. Standard plans integrate phone systems with conference software.
Cons: More expensive than Grasshopper's $29 per month starter plan.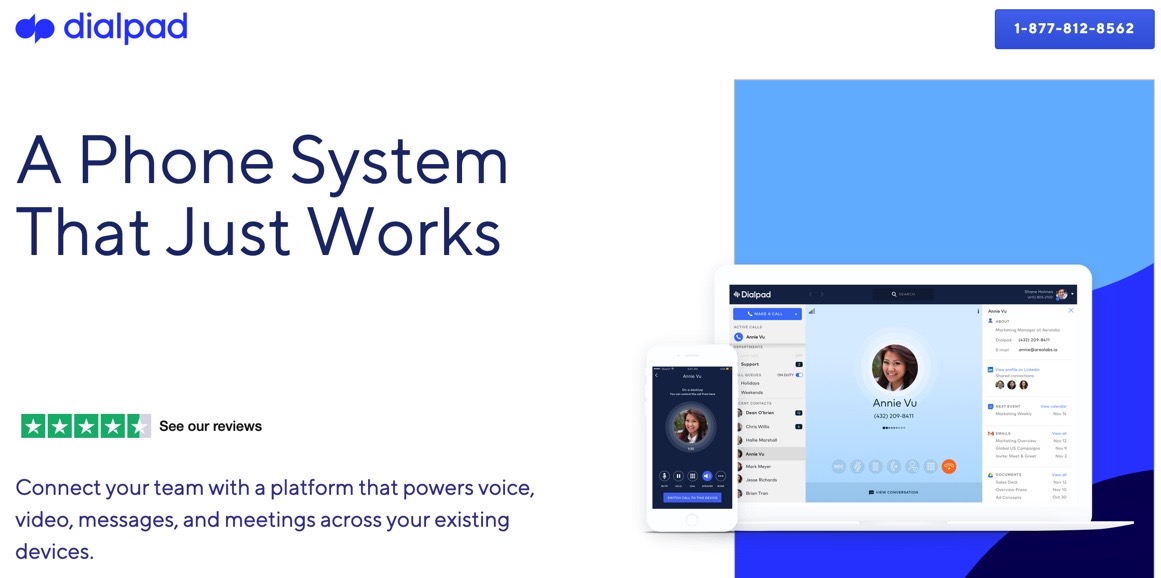 Dialpad Talk is one of four Dialpad products. Separately, they also offer video conferencing, support call centers, and sales call dialers. Formerly called Mitel, Dialpad has been a part of the VoIP world since the beginning.
With Dialpad Talk, you can seamlessly move from a desktop phone to your mobile phone. As with any Grasshopper alternative, you can receive your calls at work, at home, or on the go.
Dialpad's plans do not include a business 800 number. Toll-free numbers start at $7/month, plus $.02/minute.
Monthly Plans Start: $20.00
Pros: Unlimited calling included on all plans. Pro plan includes integration with Salesforce.
Cons: Features like a toll-free phone number, API & Webhooks, and faxing, are only available with the Pro plan at $30/month.
CallHippo offers a pared-down basic service for only $12 a month. This simple plan provides call forwarding and mobility. It does not include a toll-free phone number, extensions, or voicemail transcription.
The Basic plan is a good choice for a single salesperson or service provider who wants easier access to business calls but does not require integration with a team.
Stepping up to its Silver plan at $24 a month, CallHippo offers a feature it calls team calling or internal calling. This feature supports collaboration, allowing employees to easily make calls among themselves.
Monthly Plans Start: $12.00
Pros: Very low-priced entry plan for a single phone extension.
Cons: To get features offered by competitors, you must purchase the Silver plan at $24/month. A toll-free phone number is not included.

Google Voice for Business is a scaled-down VoIP phone service when compared to other Grasshopper alternatives; however, Google Voice for Business comes with strong, basic features. It integrates with the Google applications that small businesses and service providers already use.
The Basic business plan includes voicemail transcription and unlimited SMS in the United States. It integrates with Hangouts and Google Calendar.
Google Voice offers free phone number forwarding for personal use. Its business plans start at $10 a month. Pricing for international calls starts at $0.01/minute, though incoming international-to-U.S. calls are free.
Monthly Plans Start: $10.00
Pros: Up to 10 users included in starter plan.
Cons: No international locations offered until the Premier plan. Limited functionality compared to its competitors.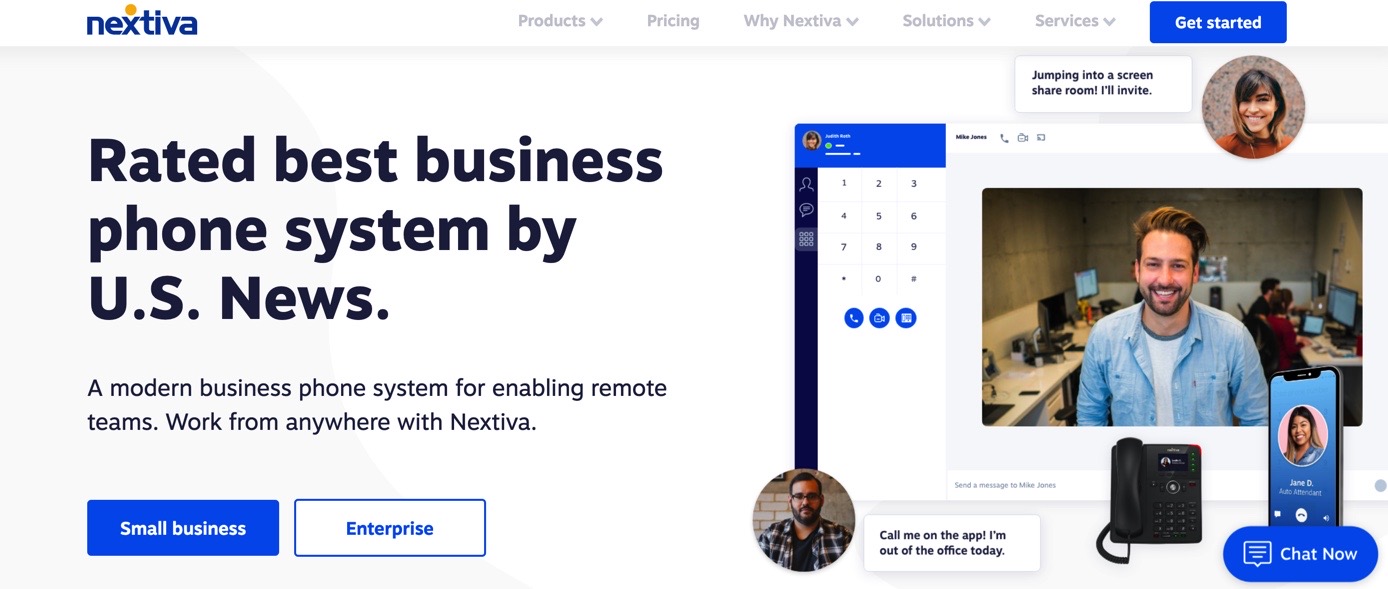 Founded in 2006, Nextiva may be a familiar name in the communications industry. Unlike Google Voice or CallHippo, Nextiva's plans all include a toll-free phone number and a local number.
Live chat is a popular Nextiva feature, which can be unlocked with the Enterprise plan. You can display live chat on your website and control this powerful support feature from the Nextiva dashboard.
Nextiva's Basic plan is similar to Grasshopper's plan; however, the Enterprise and Pro plans are more affordable. The Pro plan allows users to add surveys at the end of every call to collect customer data at no additional cost.
Monthly Plans Start: $21.95
Pros: Pro and Enterprise plans are feature-rich and relatively affordable.
Cons: No monthly plan comes with unlimited toll-free minutes.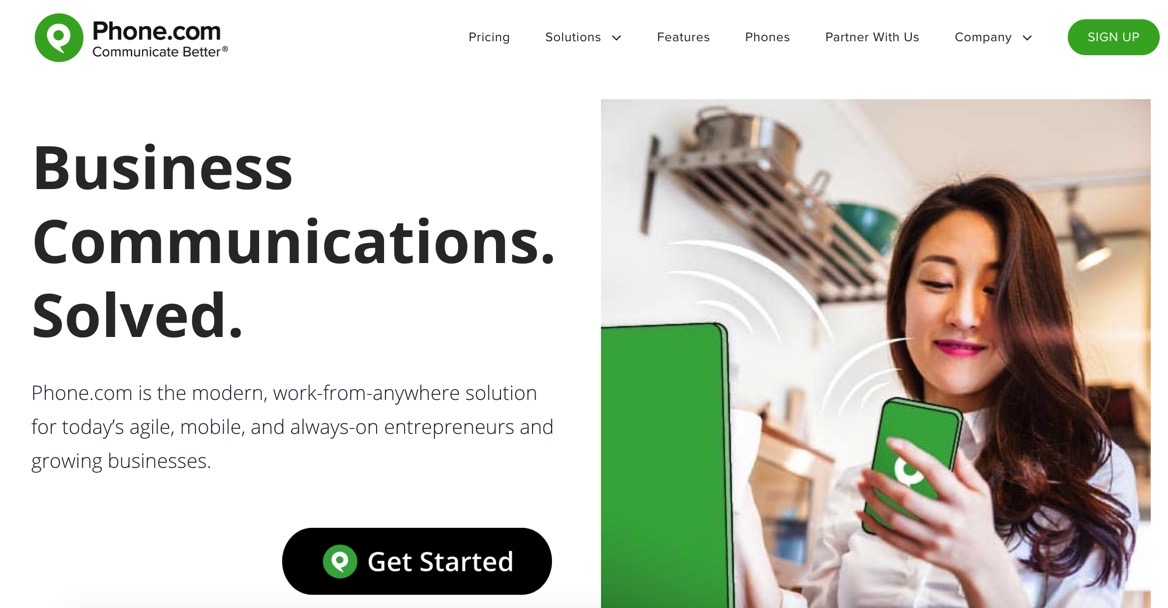 Phone.com is a mobile, work-from-anywhere solution for service providers and entrepreneurs. As an additional service, companies can hire a live receptionist who can answer and direct their calls.
For users just getting started in business, Phone.com offers "pay-per-minute plans." While its monthly inclusive plans start at $29.99/month, a business can get 300 minutes a month and 5000 SMS for $12.99/month.
Combined with a 30-day money-back guarantee, Phone.com tries to make it easy to get started. As with 800.com, Phone.com allows you to select a vanity 800 number.
Monthly Plans Start: $29.99
Pros: Even the pay-per-minute plans include hold music and an auto attendant.
Cons: No plan offers unlimited business SMS. Phone numbers are not included ($4.99/month per device).

VirtualPhone.com is a good choice for businesses with an international emphasis. It offers toll-free and local phone numbers in more than 120 countries.
As with 800.com, the VirtualPhone.com plans include call recording. It also offers phone conferencing, call forwarding, and an automated attendant.
VirtualPhone.com offers 100 minutes or texts free. Its starter plans start very low, as you can pay as you go at $0.06/minute. For $9 a month, users get 200 minutes or texts included.
Monthly Plans Start: $9.00
Pros: Established for international use. Very low-priced entry packages.
Cons: As your business grows, so do your costs. 2000 minutes or texts cost $59/month.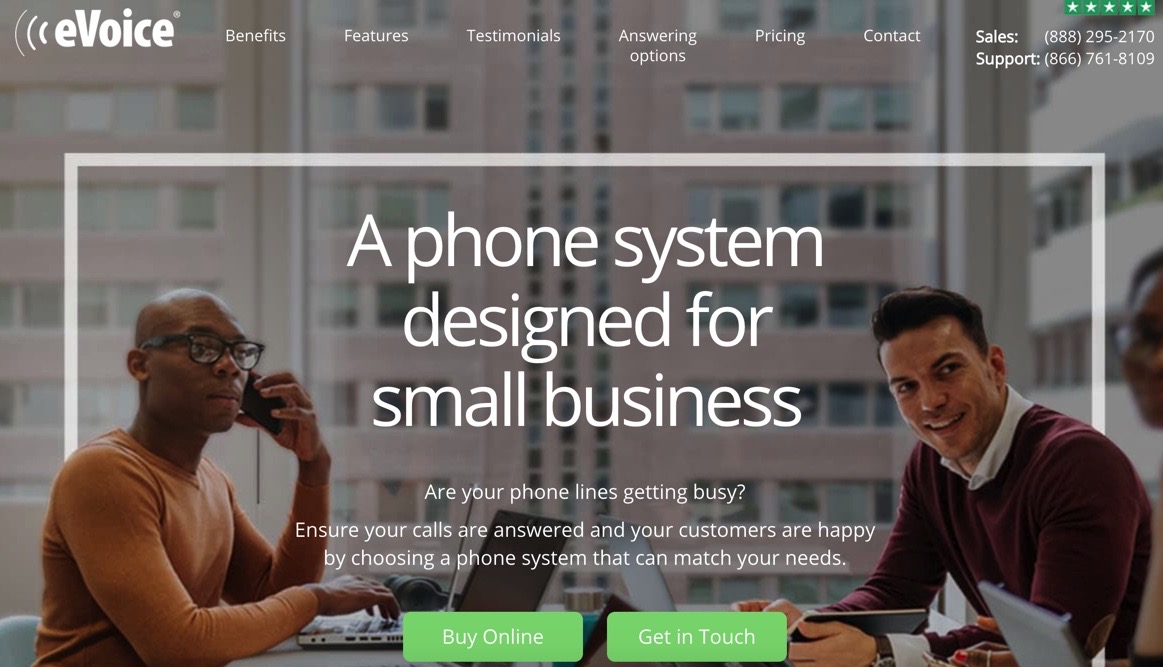 eVoice provides features like call forwarding, texting, and an auto-attendant for as little as $7.50 per user, per month, with a minimum of two users. This Basic plan offers only 300 minutes per month total, but it does include up to six toll-free or local numbers and unlimited extensions.
eVoice's Unlimited plan includes unlimited inbound faxing, 12 toll-free or local numbers, and unlimited extensions for $19.95 per user, per month; however, a minimum of four users is required.
The plans are feature-rich. You can block, route, and screen calls with the caller ID, and, of course, manage your calls and account on either your mobile phone or desktop.
Monthly Plans Start: $14.99 (for two users)
Pros: Feature-rich with flexible and scalable plans.
Cons: Call recording is an add-on. Not designed for solo entrepreneurs.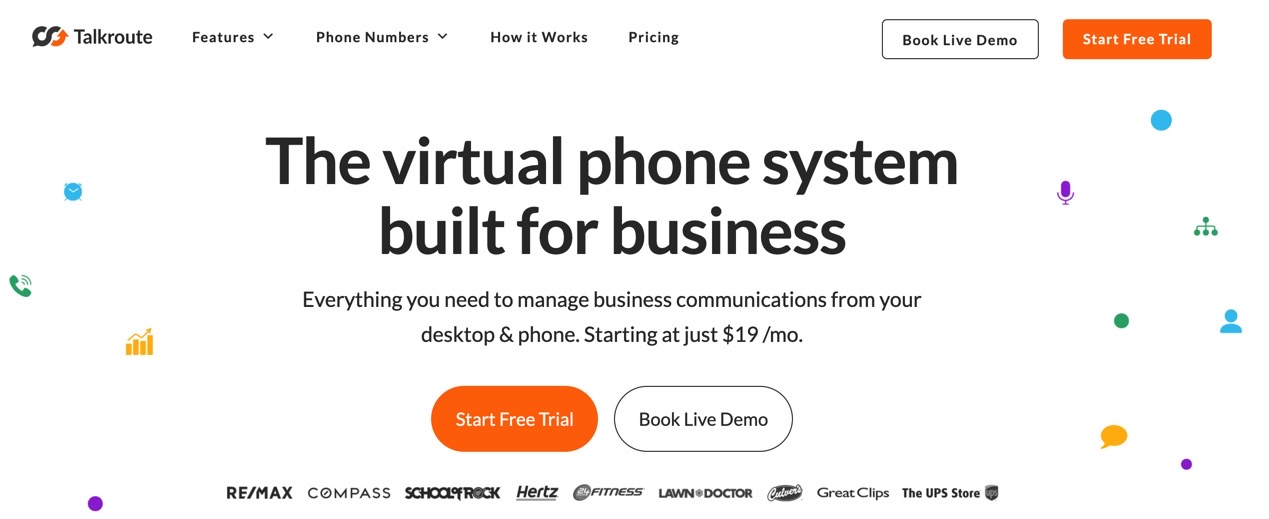 Talkroute is a good option for teams seeking a call center solution that works on desktop devices, as well as on smartphones. Its plans scale from Basic at $19 per month to Enterprise at $99 a month. The Basic plan includes a toll-free phone number, a local number, and unlimited calling.
Talkroute offers live call transfer, call queuing, and reports data about your staff call activity. Businesses that need virtual call centers are well-suited for this service.
Designed to grow with your business, Talkroute has more call routing and transfer options than most competitors.
Monthly Plans Start: $19.00
Pros: Live call transfer feature unlocks with the $39/month Plus plan.
Cons: No call recording included with the Basic plan.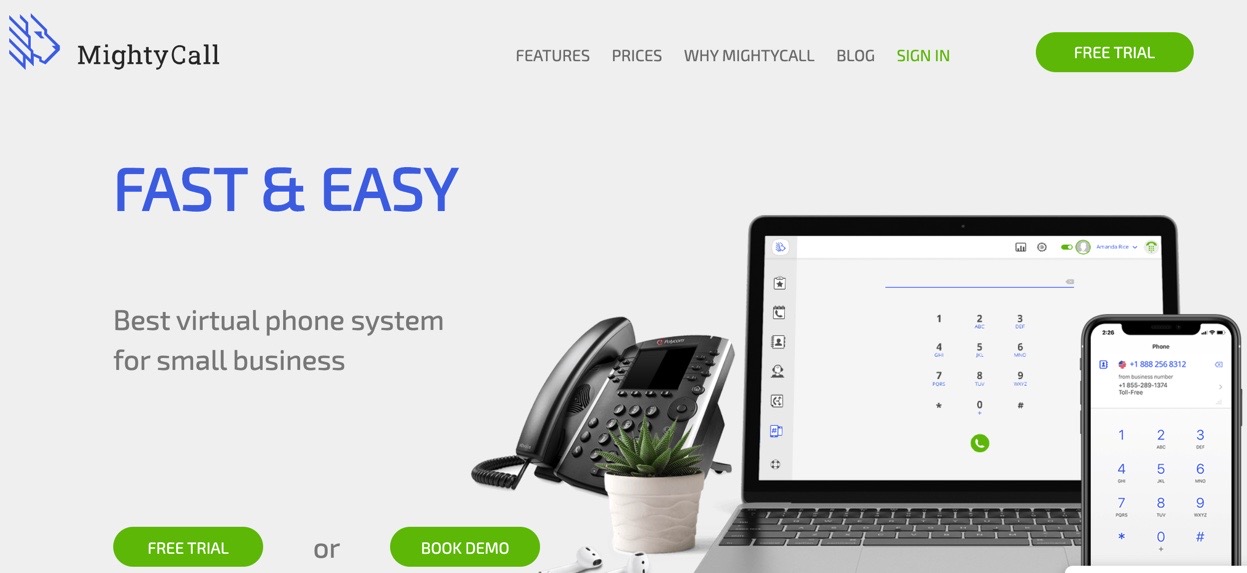 MightyCall promotes its ease of use, with no additional hardware needed. Some plans, like Vonage, require a special phone that the company provides. MightyCall's focus is on keeping your business mobile and nimble.
Unlike Grasshopper, MightyCall's posted prices include tax. Its $19.99 monthly Basic plan is billed exactly as advertised. Including 1000 minutes and two toll-free or local numbers, MightyCall presents a strong alternative to Grasshopper.
MightyCall's value continues in its upgraded plans. Its Standard plan at $39.99/month saves customers $10 when compared to Grasshopper. For businesses that need an international number, MightyCall is a better value, with a $10 pay-as-you-go plan.
Monthly Plans Start: $19.99
Pros: Fair prices and good features. Easy international add-on.
Cons: Basic plan does not include call recording or voicemail transcription.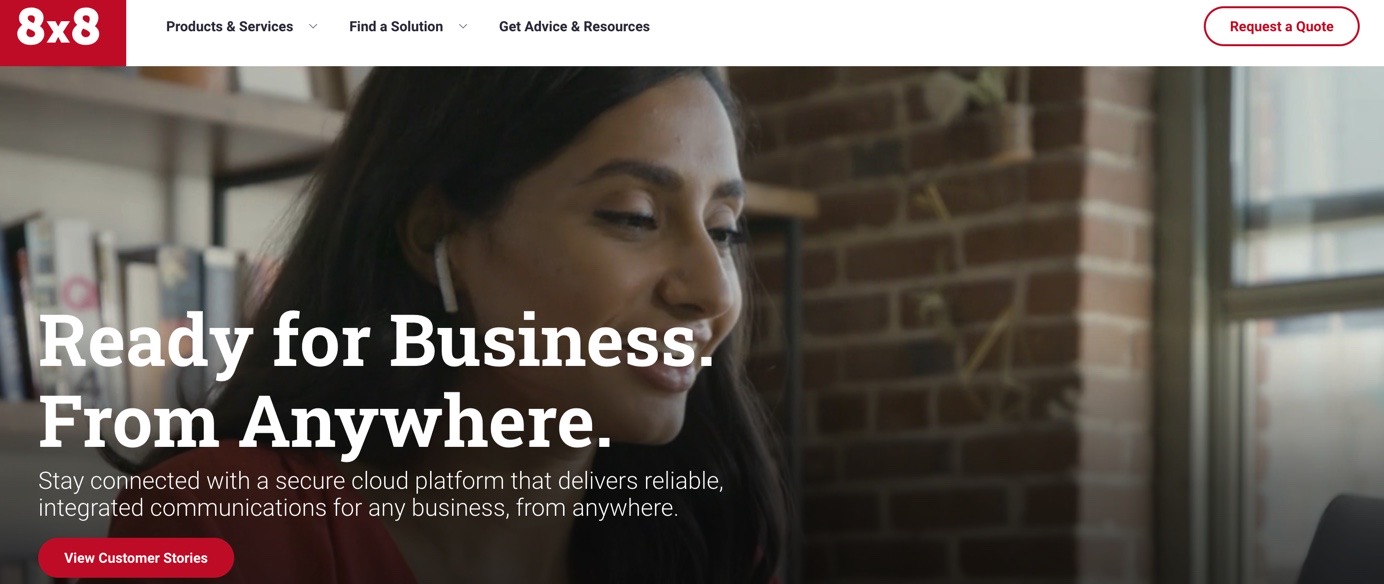 8×8 includes an auto attendant with every plan. It also offers unlimited calling to 14 or 47 countries, depending on the plan. This makes 8×8 a good option for a small business that needs international coverage.
8×8 also includes video meetings with screen sharing with every plan; however, to get fax, call recording, and voicemail transcription, customers will need to invest in the X Series X2 plan, which starts at $25 per user, per month. This plan includes unlimited calling to 14 countries.
The real international access starts at $45 per user, per month, and includes unlimited calling to 47 countries.
Monthly Plans Start: $12.00
Pros: Good option if global coverage is a priority.
Cons: No live chat help feature. Limited support. Becomes less affordable as a business scales up.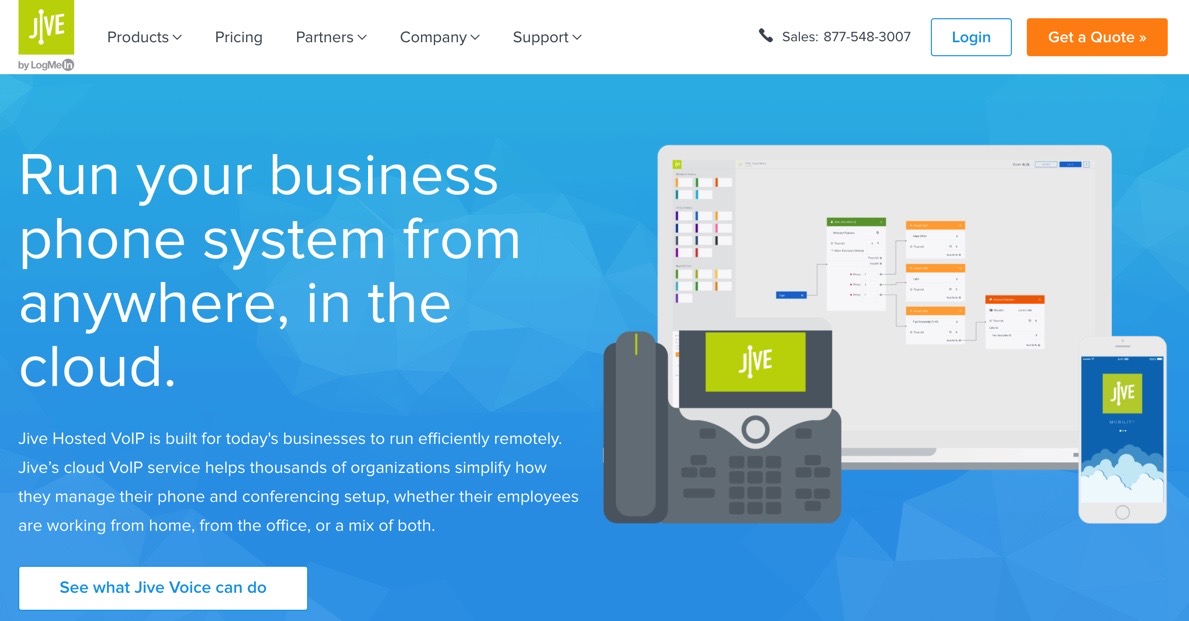 Jive empowers business owners to maximize their phone and conferencing setup. Unlike almost all other Grasshopper alternatives, Jive's tiered pricing depends on the number of users. All plans include all of its features.
Every plan includes auto attendants, voicemail transcripts, corporate directory, and 77 other features.
Jive's customer service lacks a live chat feature but is otherwise good.
Monthly Plans Start: $29.95
Pros: Feature-rich and scalable.
Cons: No basic entry plan for the start-up business.
Are you getting the most from your phone system?
Communication can make or break a business. A VoIP cloud-based phone system projects professionalism. More importantly, it makes it easier for customers to reach you when they are ready to buy.
Whether you want a local number to speak to your local community or a toll-free phone number to draw from a larger area, 800.com offers feature-rich plans for competitive prices. Pick your number today.